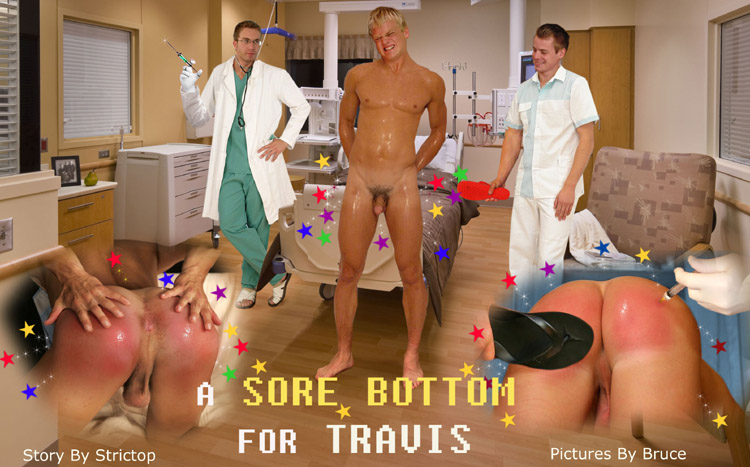 A Sore Bottom For Travis
(A Sore Bottom For Travis, written by StricTop and Illustrated by Bruce, was first published elsewhere in September 2011)
"Muh-ther-FUK-ker!"
It was his standard response to any annoying situation. And it seemed to Travis that more than his share of situations were annoying lately, if not downright frustrating. Not being the brightest bulb on the tree, Travis' many brilliant ideas often had a way of just not working out.
"Muh-ther-FUK-ker!" He whined to no one in particular.
For Travis, 'motherfucker' referred to all the nameless, faceless people and circumstances that conspired to keep him from getting what he wanted—easy money, free drugs, and plenty of sex.
"Fukfukfukfukfuk!!" He crumpled the envelope he was holding and threw it angrily at the blank TV.
Tiffany, Travis' latest in a long line of girlfriends, stuck her head in from the kitchen. She had one of those flawless faces that are irretrievable after the age of 28 and that crowd every nightspot and modelling agency from Encino to East L.A.
"What is it, Travis, honey? What are you yelling about?" She flipped her perfect, shiny blonde hair with surgical precision and blinked at him from wide-set, almond-shaped eyes. She wiggled over and settled in beside him on the sofa.
"Honey, don't get so upset." She stroked his head and cooed soothingly. "Don't waste all that energy on unimportant little things." She clearly had no idea what was actually bothering him. "You're going to need all the energy you got for the game next week…and for me…" She adopted what she thought was her sexiest pout and ran her hand across the front of his chest.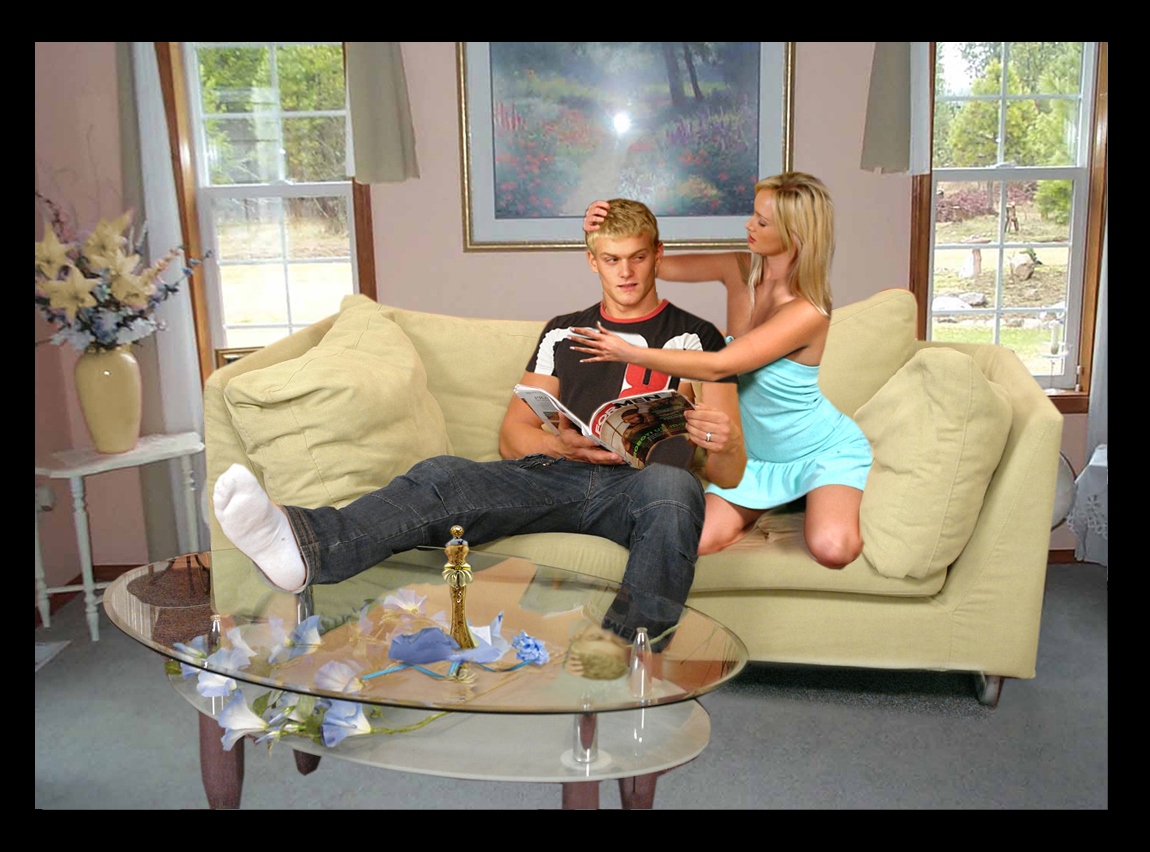 Travis White had picked her up the previous weekend at one of the hotter clubs in town and she had been staying with him ever since—that is, staying at the million-dollar condo in Westwood that belonged to his uncle, Charlie White. But she didn't know that. Travis had told her it was his place and his car. He had also told her that he was on the starting lineup of the Los Angeles Dodgers. The bar was about to close. She was drunk. He was flashing around a lot of cash. And neither of them thought past the end of Travis' dick.
They went home that night and had amazing sex. What each lacked in IQ points, they more than made up for in good looks and sexual enthusiasm. She wanted to believe she had hooked up with a big baseball star—and he intended to let her.
The deal was clinched when he showed up the next afternoon with a giant bottle of her favorite perfume. She had seen it in the store and knew exactly what it cost. Unconcerned that large-bottle-size rarely predicted quality, they each beamed with their own inner pride—she, pleased at how easy it was to get him to buy her the most expensive thing on the counter; he gloating that the ridiculously-priced bottle was a knock-off he had purchased for five bucks on the street.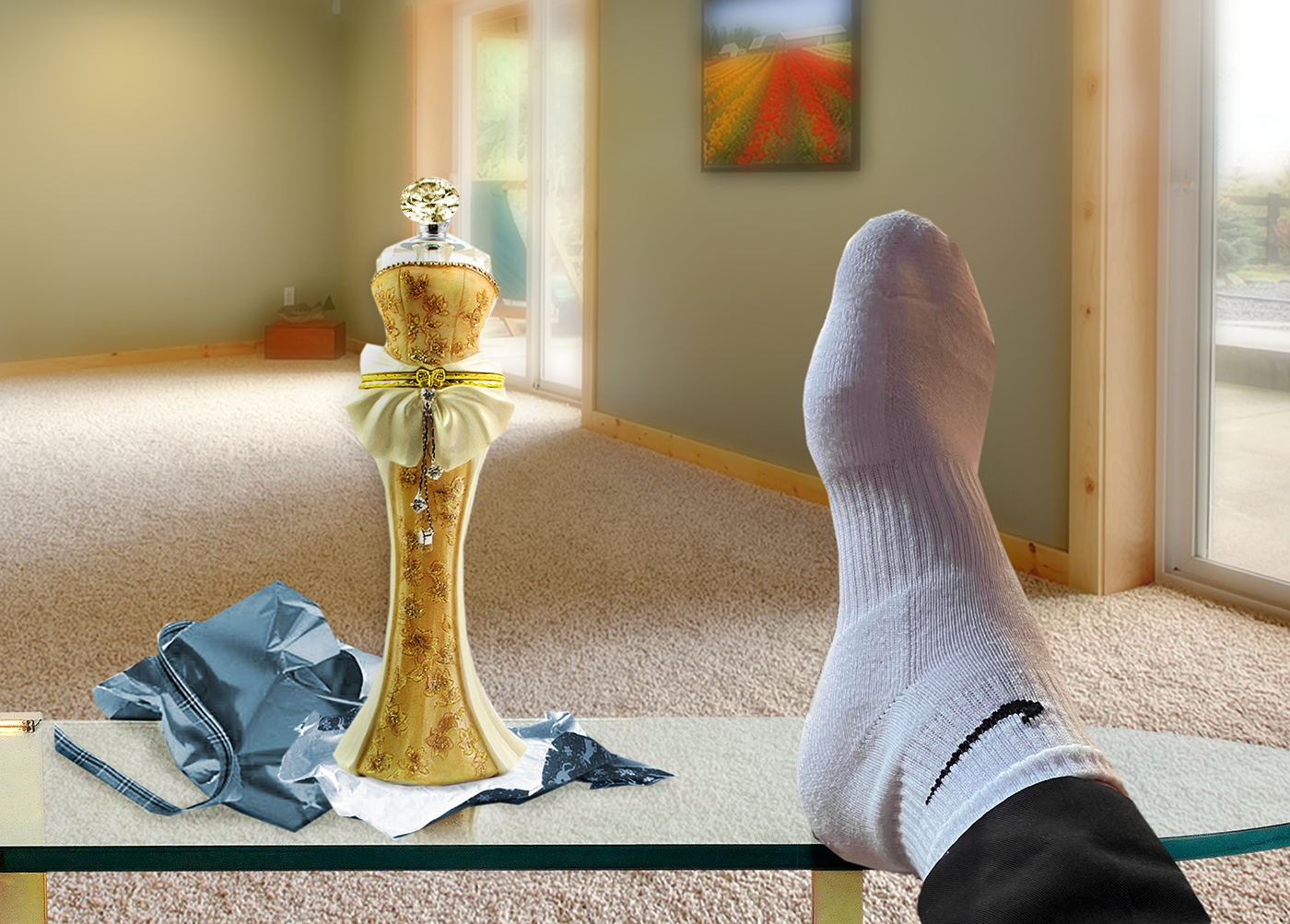 The giant bottle gleamed obscenely on the coffee table while Travis' thoughts drifted to the note crumpled on the floor.
*
Click on the Continue Reading tab below to see more.
*
______________________